New from Cover to Cover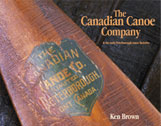 The Canadian Canoe Company
by Ken Brown
The Canadian Canoe Company and the Early Peterborough Canoe Factories examines the history of canoe building in an intriguing way, by telling the story of the business of canoe manufacturing. While impeccably researched, this book is much more than a business history. It brings to life stories and entrepreneurs once lost in business legers and historical documents. By focusing on the origins and fortunes of one of Peterborough's local canoe companies, author Ken Brown presents a broader narrative, one that ranges from the early days, when creative canoe-building pioneers first began to practice their craft in the region, through the glory days of the industry, when ambitious manufacturing concerns distributed many thousands of "Peterborough" and "Canadian" canoes around the globe.

The tales and pictures in this heavily illustrated text will appeal to many interests. Cottagers and boating enthusiasts will enjoy a glimpse into how canoe manufacturers served and fed the fledgling leisure industries that are now so prominent in the Kawarthas. Boat builders will like the reproduced catalogue pages and the information on popular canoe designs. For the history buff, the story of how the early boat shops developed into an industry that came to provide one of Canada's first luxury exports could be the central draw, although anyone interested in local history will also feel the book's appeal.

So sit back and let Ken Brown take you on a trip through the historical currents of a nineteenth-century Peterborough industry that achieved global acclaim.
Readers say:
"I must congratulate you on a fine piece of work. The book is very well done indeed." - John Summers, The Canadian Canoe Museum